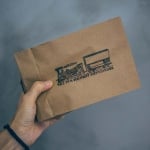 The Tea Market Experience
$18.50 – $19.50
Description
Additional information
Description
Welcome to the Tea Market Experience.
This is your opportunity to browse the tea markets of Kunming and beyond from your own home. Each month we will change it up with a new interesting, unique and/or educational tea that we wouldn't otherwise make available. No subscription is required, but these teas are limited in quantity.
This month's tea is a 100g tuo from Laos. This tea is made from 2015 material and processed as a "sheng puer". Yes, even though the official definition classifies all puer as having to have originated from Yunnan, for all intents and purposes it's easier to just call this a raw puer, as the processing remains exactly the same.
The tea itself is quite enjoyable though. It's highly fragrant, with some bitterness and roughness at the front that dissipates quickly. This tea also differed from expectation, as many of the Laos teas we're familiar with have been from the border area with Yiwu and thus held a similar flavour.
Additional information
| | |
| --- | --- |
| Weight | N/A |
| Dimensions | N/A |