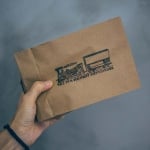 The Tea Market Experience
$18.50 – $28.00


Description
Additional information
Description
Welcome to the Tea Market Experience.
This is your opportunity to browse the tea markets of Kunming and beyond from your own home. Each month or 2 we will change it up with a new interesting, unique and/or educational tea that we wouldn't otherwise make available. No subscription is required, but these teas are limited in quantity.
This month's tea is an unpressed (loose) raw-ripe combo (12g raw, 20g ripe, both Jingmai) from one of the trendier (and pricier) producers in Yunnan, Bolian.
Both the raw and ripe have a slightly smoky, yet gentle and enjoyable "spice" quality to them. Despite being 2012 (raw) and 2013 (ripe), they still maintain a good level of fragrance that stays with you.
With a cost just shy of the $1/gram mark, these premium teas deserve to be tried at least once. Drawing inspiration from their experience with wine storage, Bolian has applied a unique and precise approach to storage for these teas that has yielded unexpected results. These teas are uniquely fragrant, yet have an "aged" taste that is hard to put your finger on. You simply have to try it to understand.
Additional information
| | |
| --- | --- |
| Weight | N/A |
| Dimensions | N/A |