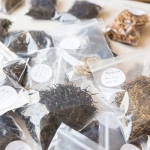 Year of the Dog Lucky Bags
$5.00
Description
Additional information
Description
Although it's a new year one calendar, the Year of the Dog is still bringing in the fortune and prosperi-tea.
Teas selected for these bags are mostly raw puer, but may or may not also contain shou puer, dancong, or others. One thing is for sure though – each bag contains 110% 福.
These Doggie Bags (sorry, had to) are pre-packed and picked at random for maximum fun and fortune.
We will do our best to label or provide information about teas that are included, but many will remain an exciting mystery – and by that we mean we have no idea what it is anymore. Sorry!
1 per customer, per order.