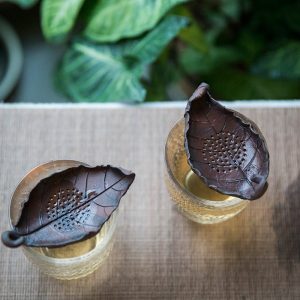 Bitter Leaf Tea Strainer
$15.00
Description
Additional information
About our Teaware
Description
Keep you tea leaves where they belong – out of your cup, with this zitao purple clay leaf tea strainer.
This type of strainer works best for younger teas. Older teas or anything with too much dust or small bits may slip through or clog the strainer.
Please see the "about our teaware" tab above for more information regarding our standards for selection and quality.
Additional information
| | |
| --- | --- |
| Weight | 52 g |
| Dimensions | 10.5 x 5 x 2 cm |
Please note that all of our zitao purple clay pieces are handmade, therefore there may be slight differences in appearance, shape and size from piece to piece or batch to batch. We make every effort to ensure consistency amongst all pieces, as well as only carry pieces that are free of major or noticeable defects.
While we always try to maintain a high level of craftsmanship for our teaware, handmade pieces like these may have a small nick or bubble in an inconspicuous area from time to time. We guarantee that each piece will look as spectacular in person as it does when we present it. However, if you wish to see a detailed example of what we consider a passable imperfection or would simply like to verify that our current stock is exactly as pictured, please contact us and we will be happy to share.
Out of stock