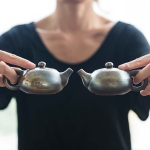 Gold Coin Wood Fired Xi Shi Teapot
$95.00
Description
See How it Pours
Additional information
Description
Even if this batch isn't very gold, these teapots all have a metallic finish and smoke patterns that are one of a kind. With a 110ml capacity and fast 5.5 second pour, they are also quite versatile and well-suited for solo brewing or sharing with others. These pots are also all fitted with a large multi-hole ball filter.
Xi Shi is a classic pot shape named after one of the 4 beauties of China, and these pots fit the profile perfectly. These finishes tend to shift and change slightly depending on the angle they are viewed from. We have included additional pictures to reflect these subtle colour changes. Please refer carefully to the pictures when selecting a pot to ensure appearance.
These pot are made from unglazed clay from De Hua. These pots were wood fired for 72-80 hours, with a naturally metallic finish being the result. As the lid was on during firing, the inside of the pots have retained a rough, porous clay finish. We recommend designating these pots for use with one type of tea.
Additional information
| | |
| --- | --- |
| Weight | 160 g |
| Dimensions | 12.5 × 8 × 5.5 cm |