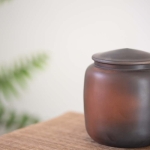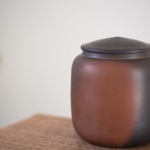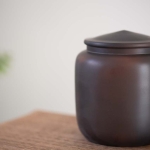 Midnight Jianshui Zitao Tea Jar – Yaobao
$68.00

Description
Additional information
Description
These tea jars are a few of the "yao bao", or kiln treasures, that we originally intended to keep for ourselves, which feature noticeable or nicer colour changes. However, after a while we realized we already have a lot of tea jars, which is why we are now offering some of our chosen ones for sale.
These medium-sized tea jars provide simple tea storage that is both ideal for your tea and pleasing to the eye.
Made entirely from pure Jianshui zitao (purple clay), these jars feature no dye or paints – only a semi-polished surface that may or may not have small amounts of red. The final appearance of your jar will be up to fate.
Storage-wise, they effectively create a microclimate for your tea to age in, protecting it from sudden changes in temperature or humidity. While you are free to store whatever tea you would like in it, we highly recommend these jars for puer, due to the reasons mentioned above.
Each jar has a volume of approximately 1-1.2L, making it suitable for storing approximately more than a full-sized (357g) cake, when broken up. If storing maocha, the capacity is significantly reduced.
Additional information
| | |
| --- | --- |
| Weight | 1000 g |
| Dimensions | 14 × 14 × 14 cm |