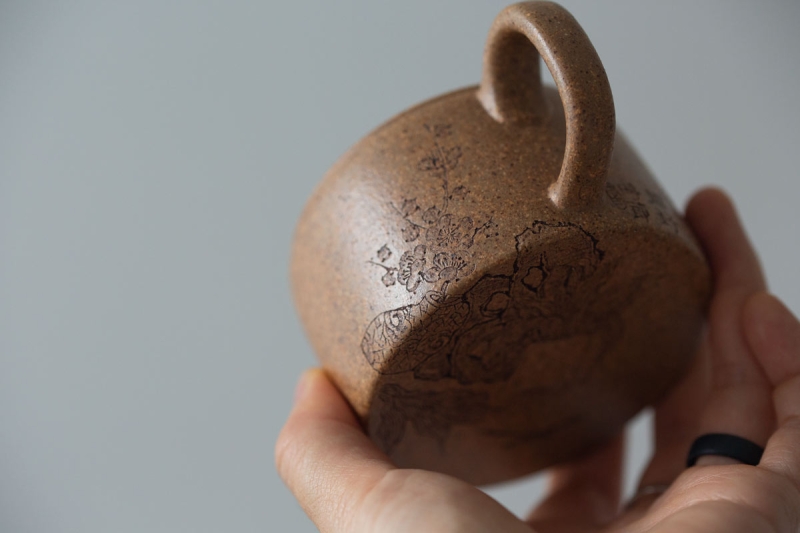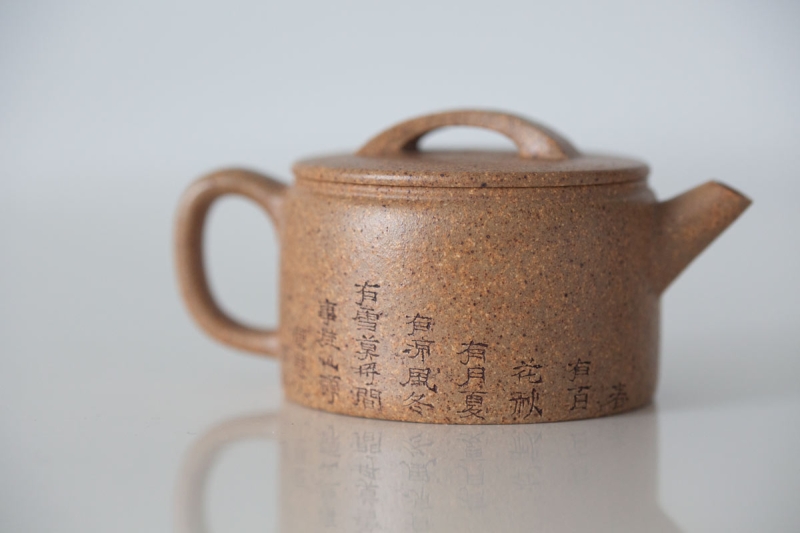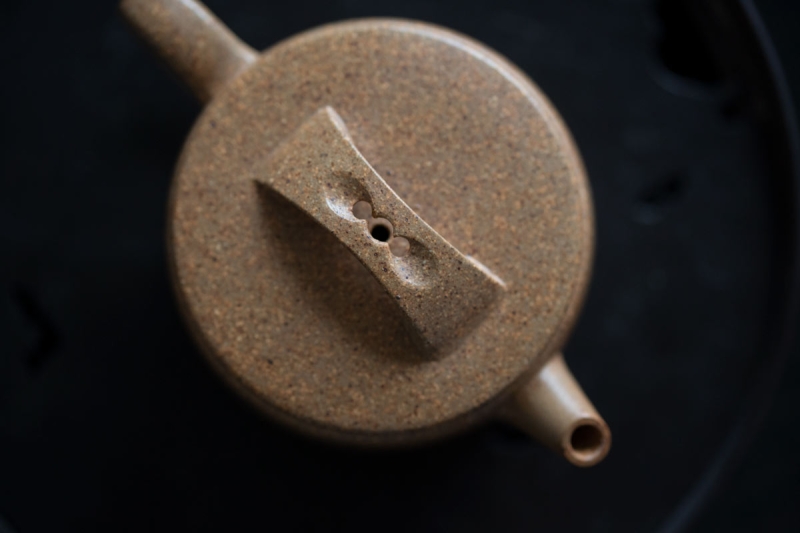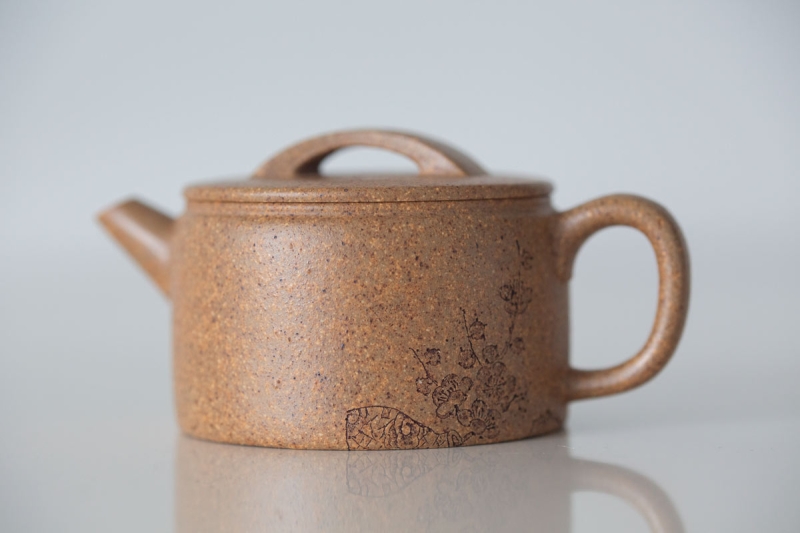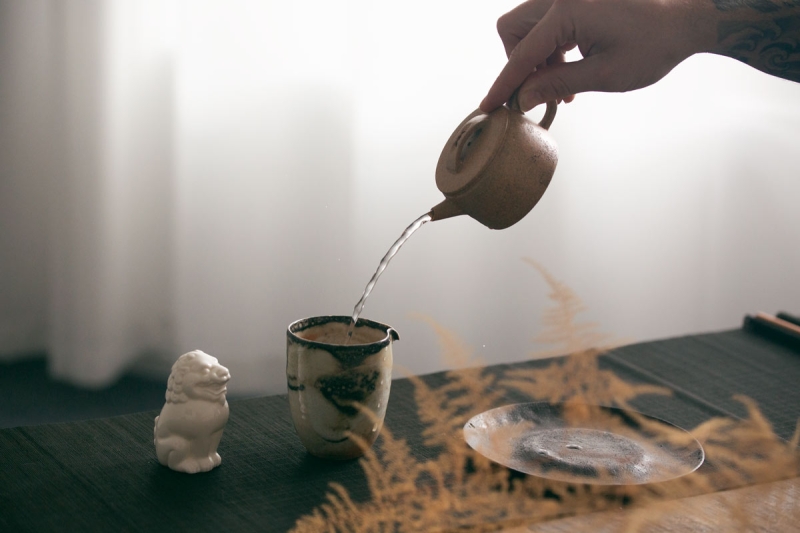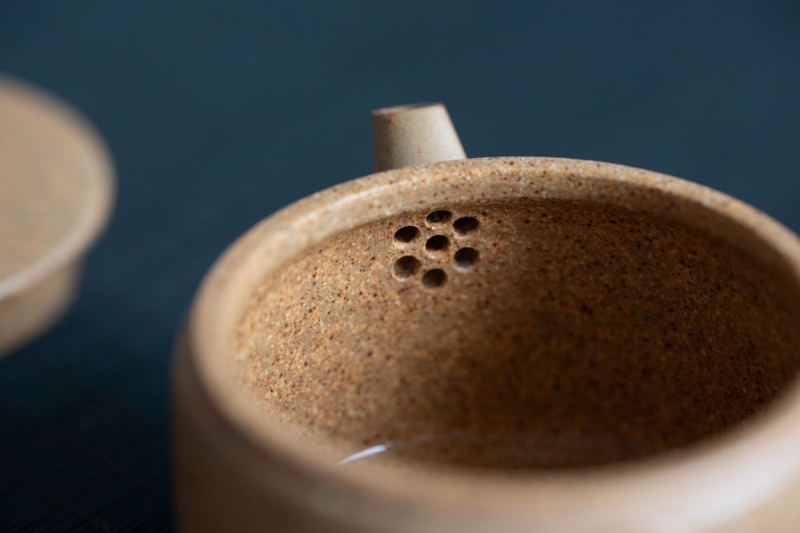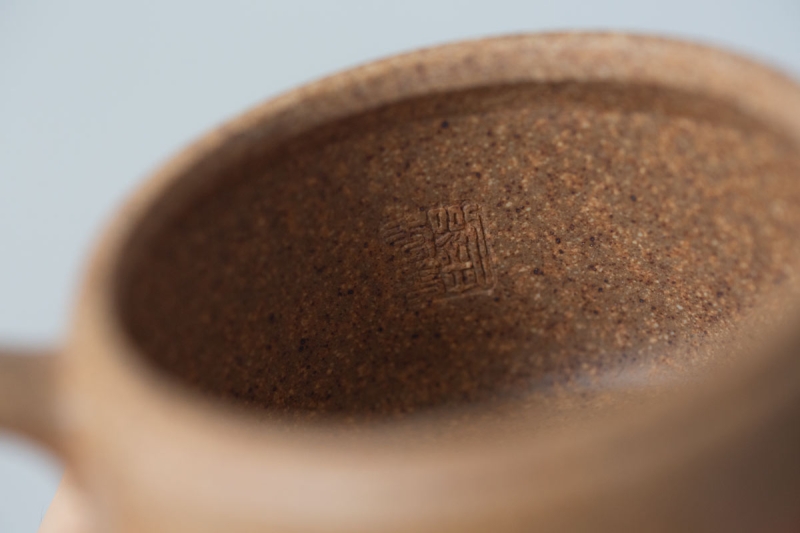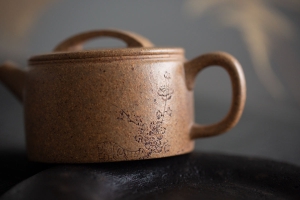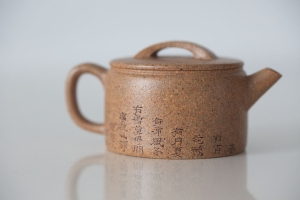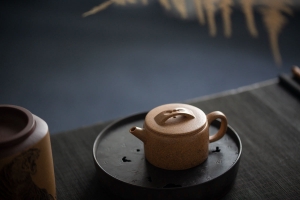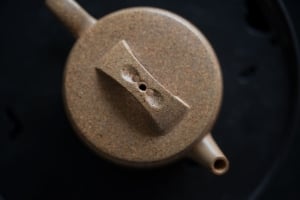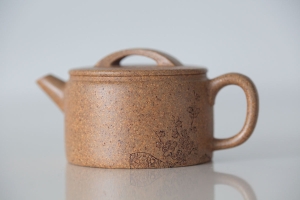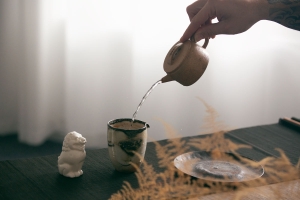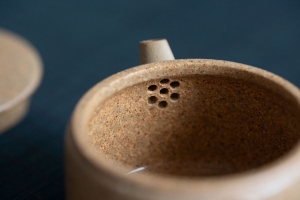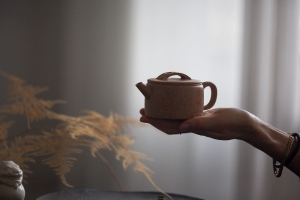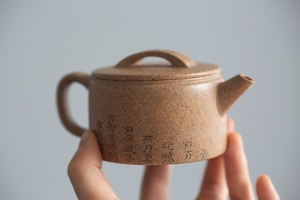 Hanwa Huangjin Duanni Yixing Zisha Teapot
$215.00
Earn 2,150 Tea Miles
Description
What is Yixing Zisha?
Seasoning & Care
Additional information
Description
This teapot is fully handmade (handmade from slabs without the assistance of a mold for shaping) using Yixing huangjin duanni clay and features engraved script and design that extends to the bottom of the pot. This engraving is subtle from a distance due to the rougher grit of the clay used, but quite intricate upon close inspection.
This teapot holds approximately 150ml and pours empty in ~8 seconds via a flat filter.
Zisha (紫砂, lit. "purple sand") clay from Yixing is valued largely due to the porous nature of the clay. As you use it, oils from your tea enter the pot, which can in turn season it and enhance the flavour of the tea you use it with over time. For this reason, we recommend dedicating your new Yixing teapot to one type of tea only (raw puer, shou puer, aged puer, black, dancong, yancha, etc) and never washing it with soap or anything else besides water. Please see the care instructions tab above for more details on seasoning and maintaining your teapot.
We recommend testing this teapot with different types of tea and deciding for yourself which type is most suitable, as there are no hard and fast rules for clay and tea type pairings. However, the conventional advice is that more porous clays are suitable for shou puer, humid stored aged raw puer and higher roasted wulongs, such as many Yancha. This is due to the higher porosity of the clay, which can help "clear up" the tea by reducing excessive storage or roasting flavour.
Additionally, a patina or surface shine will develop on the outside of the teapot due to its interaction with the tea, providing an aesthetic enhancement. Functionally, zisha teapots also have very good heat retention qualities.
Once your receive your new zisha teapot, you may want to season it and prepare it for the many teas and years of use it will experience. Personally, we have shied away from seasoning teapots as time goes on, not because this process doesn't help, but because it is extra work and invites the risk of breakage if you're not careful.
Pots made from genuine clay should not exhibit much clay taste of flavour-suck for too long, so we feel that a week or 2 of consistent use is typically sufficient to break in a new pot. More often than not, we just rinse a new pot twice with boiling water, then go to town. Simple and easy.
With that said, if you still wish to season your teapot and get a head start, the process is relatively simple:
Check for clay deposits and scrape gently with a wooden or bamboo stick if necessary.
Place the pot in boiled water and allow to sit for 30-60 minutes. Some may advise letting your teapot simmer in the pot during this time. If you do this, avoid letting the teapot is rattle on the side of the boiling pot too much. If you notice this, reduce the heat to a less vigorous boil and always use a cloth or towel to pad the sides.
Remove the pot and allow it to dry
Using new water, add some new or used tea leaves of the type that you plan to use this pot for, boil, add the teapot and allow it to sit for another 30-60 mins. Again, you can boil the pot with the tea for this duration if you wish, just be careful.
Rinse with regular water and allow to dry. Try not to use excessively cold water for this step in order to avoid shocking the pot and causing a potential crack. In fact, avoid sudden/drastic temperature changes altogether to avoid cracking or breaking your new teapot – it can happen.
Repeat as desired
Your teapot is ready to be used!
After seasoning your pot, it's advised to designate the pot for one type of tea (raw puer, ripe puer, oolong, black tea, etc) as the pot will slowly absorb the flavour and characteristics of the tea you use it for.
If for some reason you use it with another type of tea, don't worry. Your pot is not ruined or tainted. The process of raising it is cumulative and happens over a long period of time – one simple session of brewing with another type of tea won't make a noticeable difference. However, one thing you should definitely not do is use soap or anything other than water to wash or rinse your pot. If it absorbs the properties of tea over time, it will also absorb anything else you put in it, especially anything perfumed or scented.
Additional information
| | |
| --- | --- |
| Weight | 165 g |
| Dimensions | 12.5 × 8 × 6 cm |
Want to be notified when this product is back in stock?