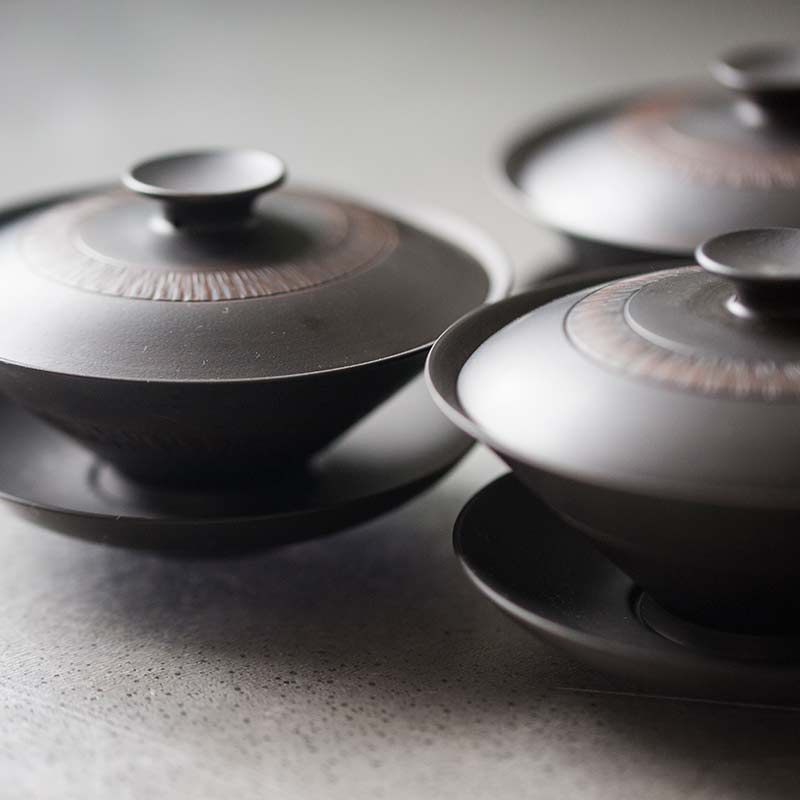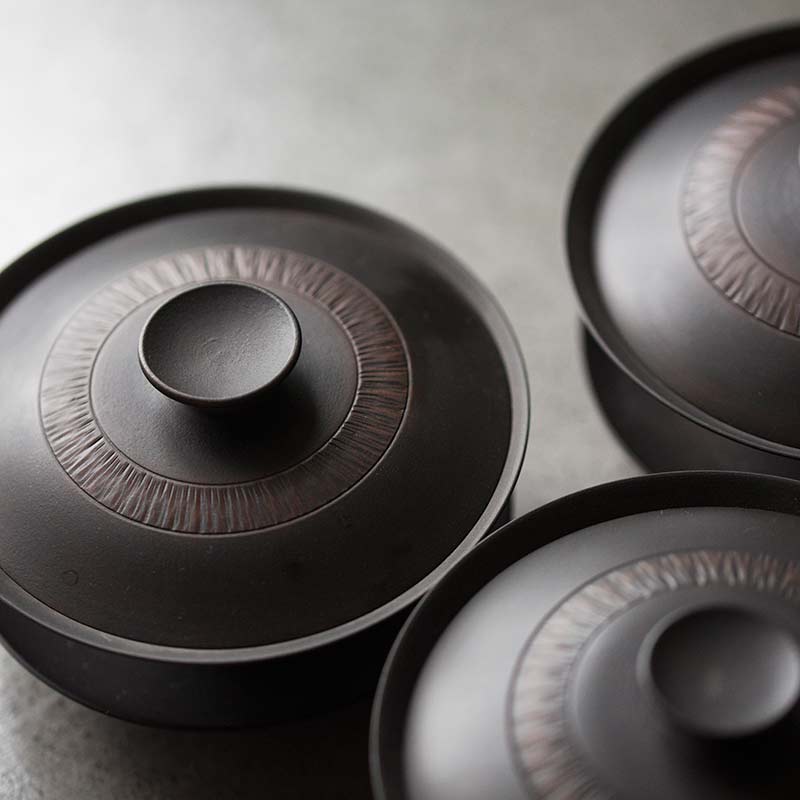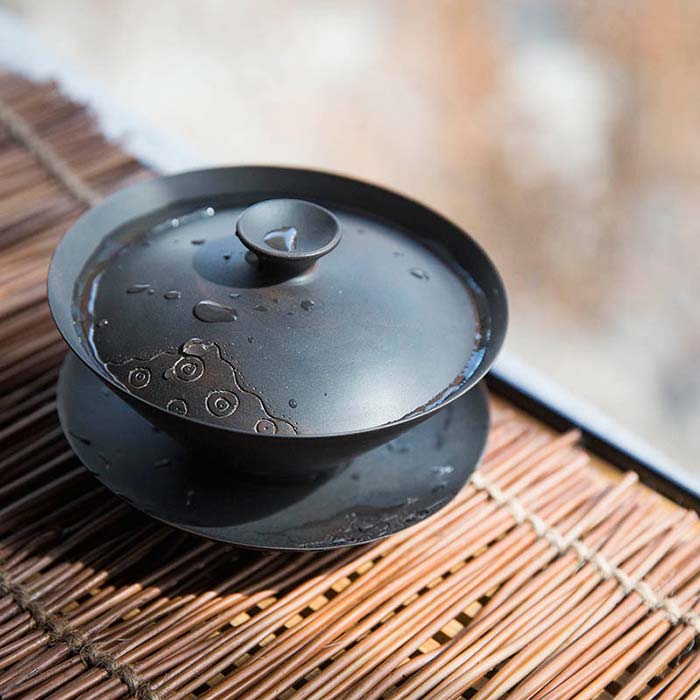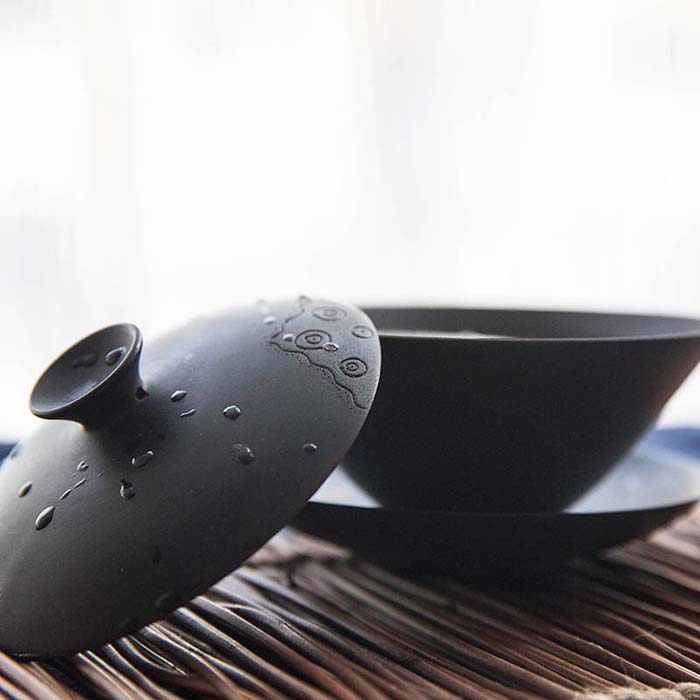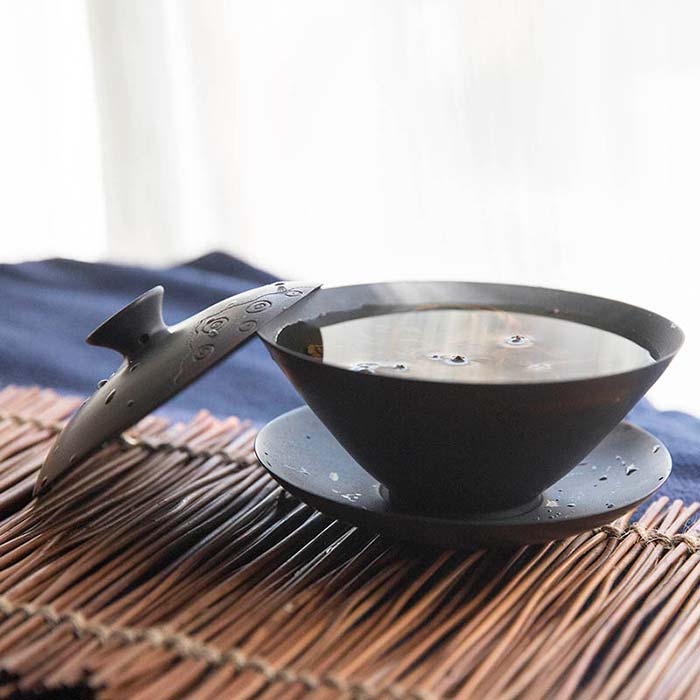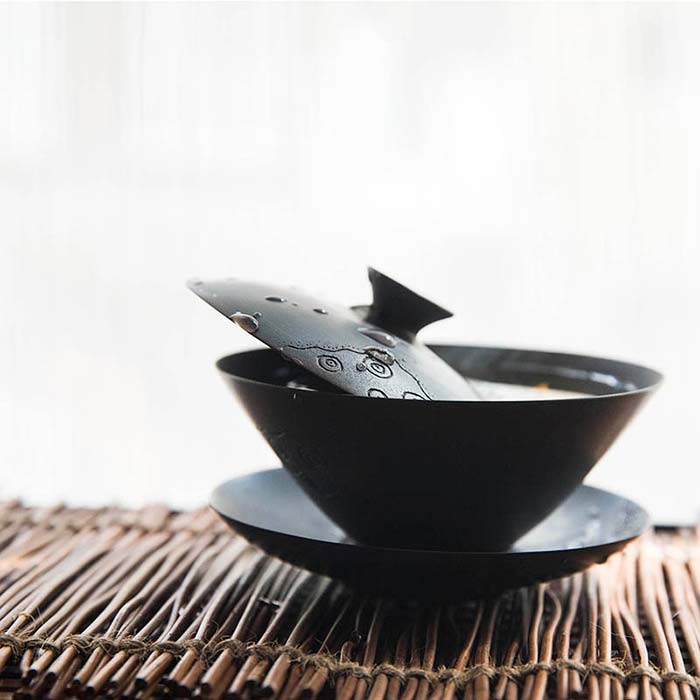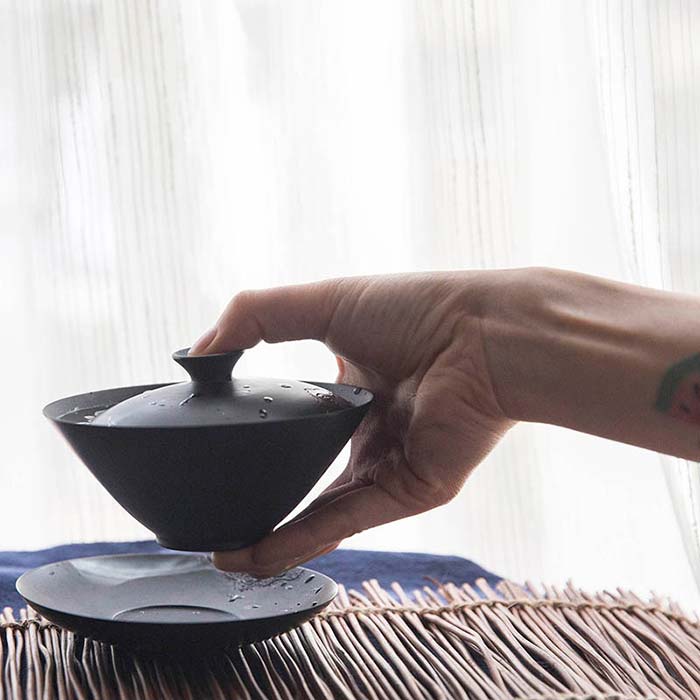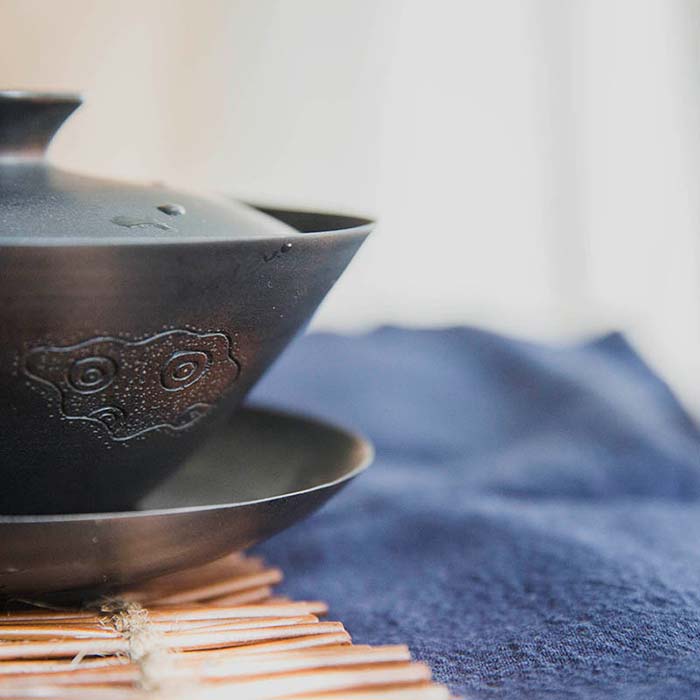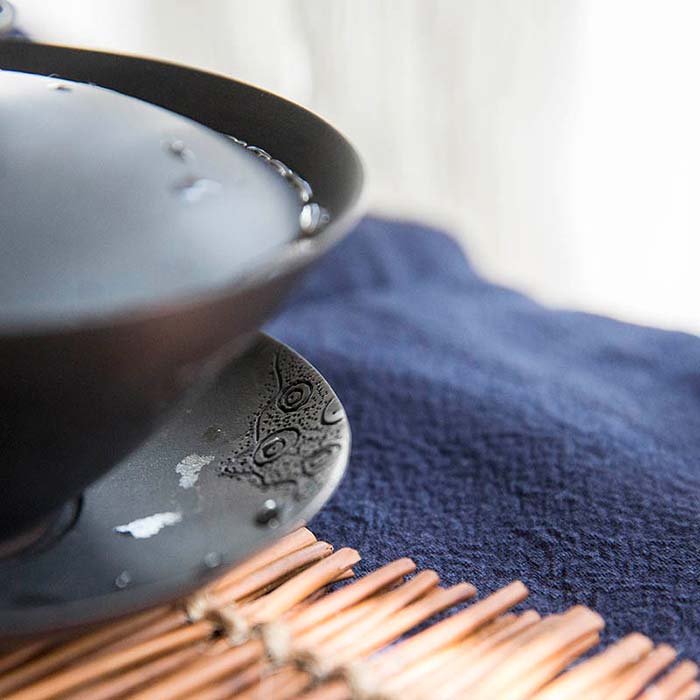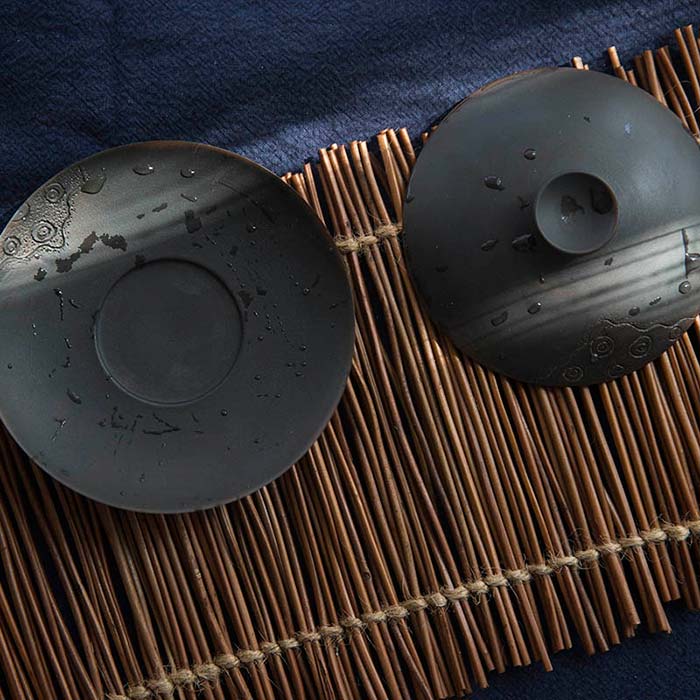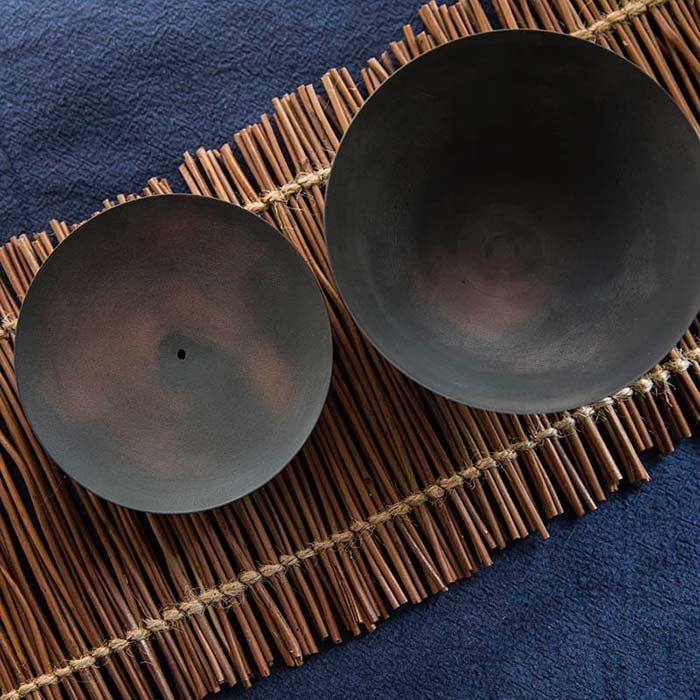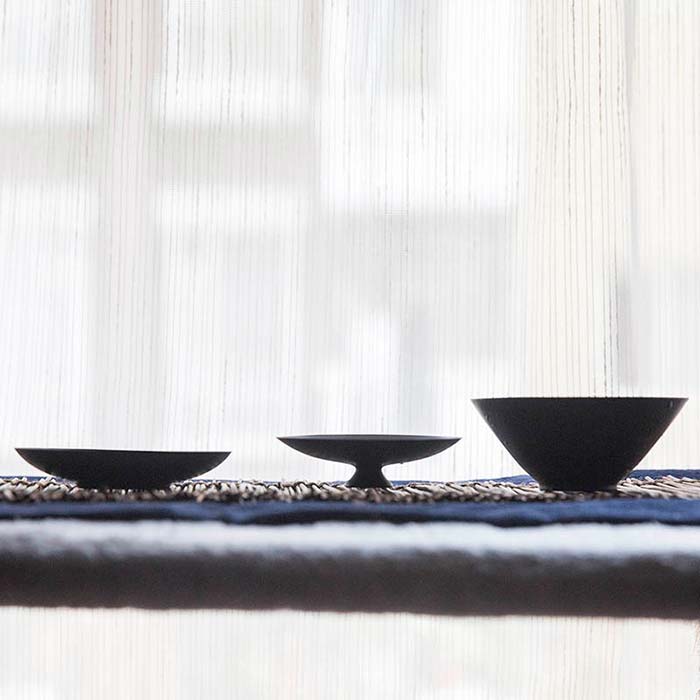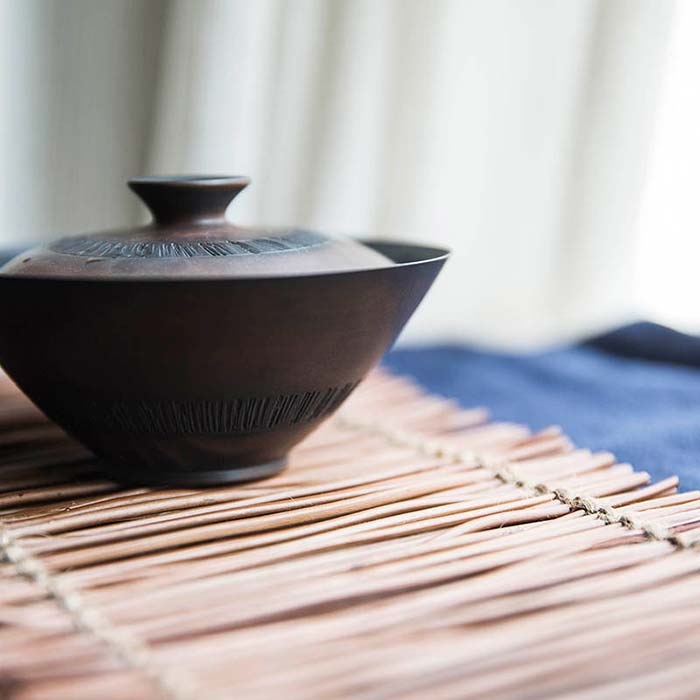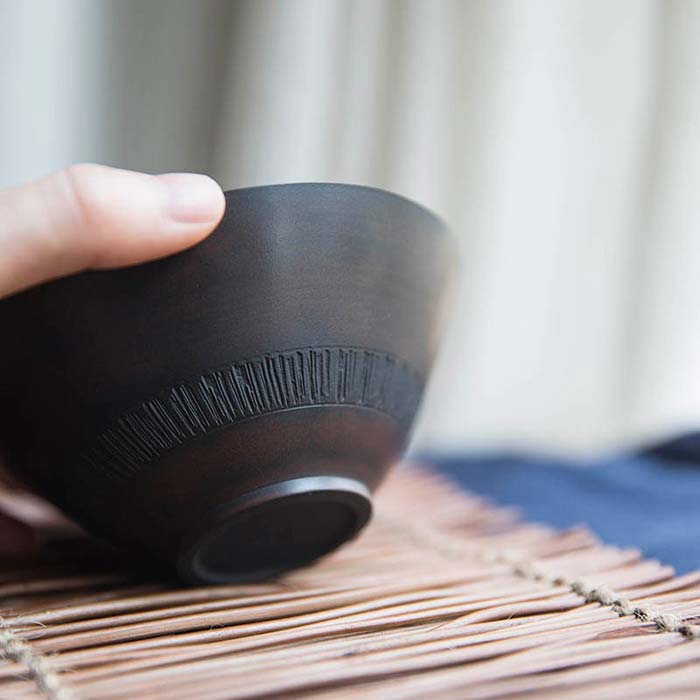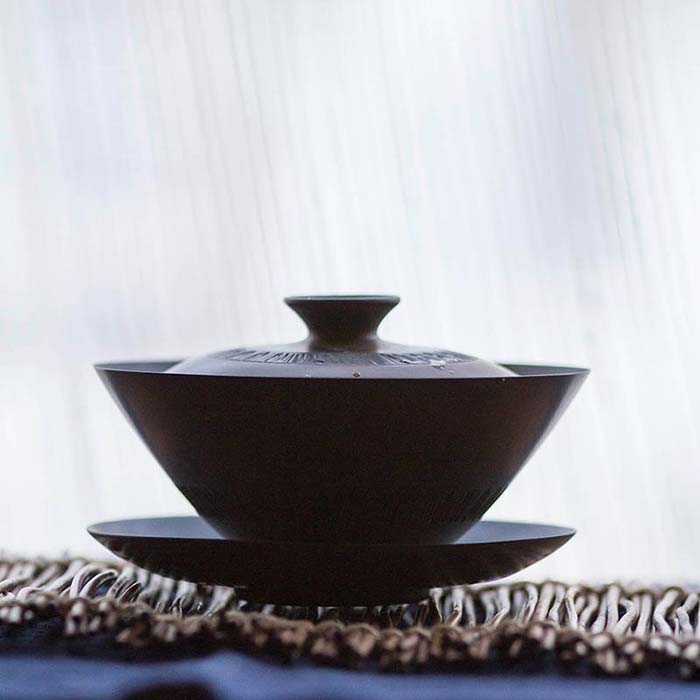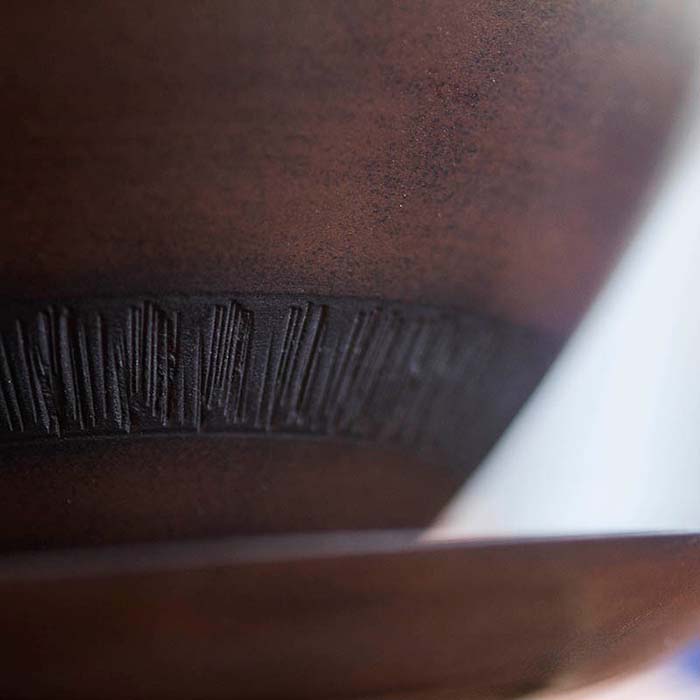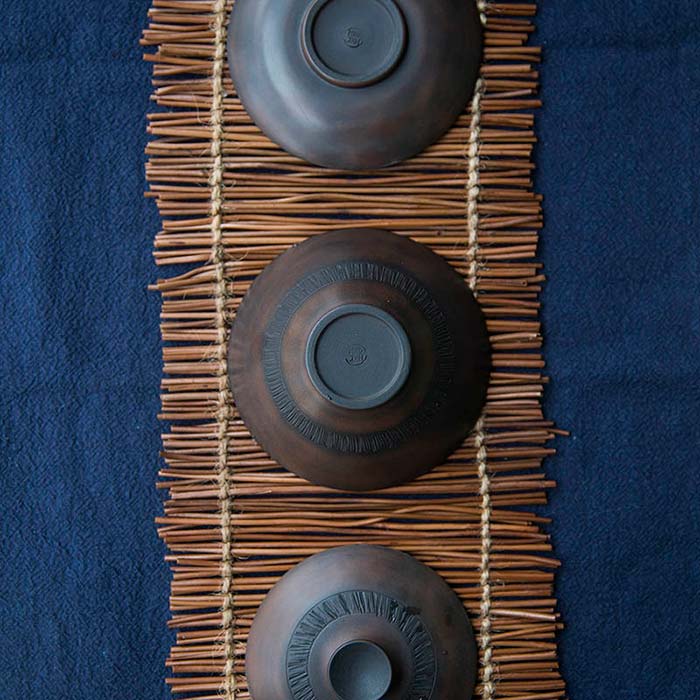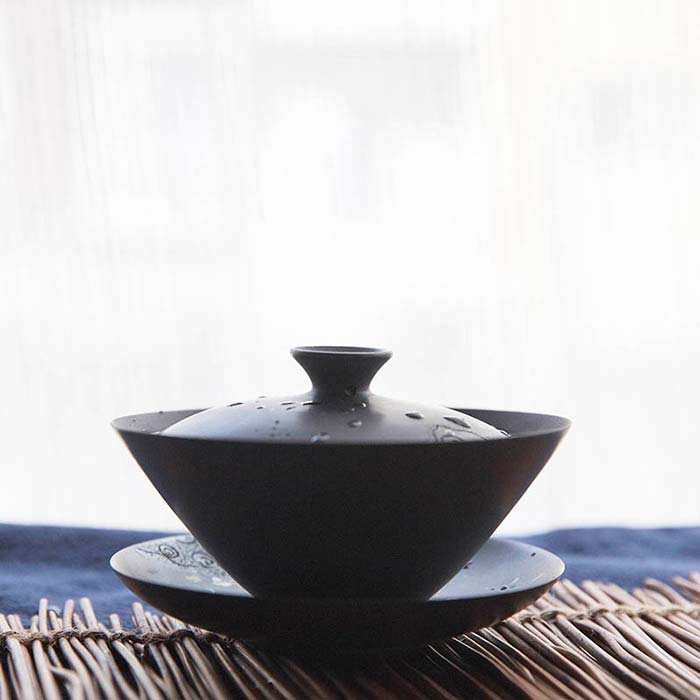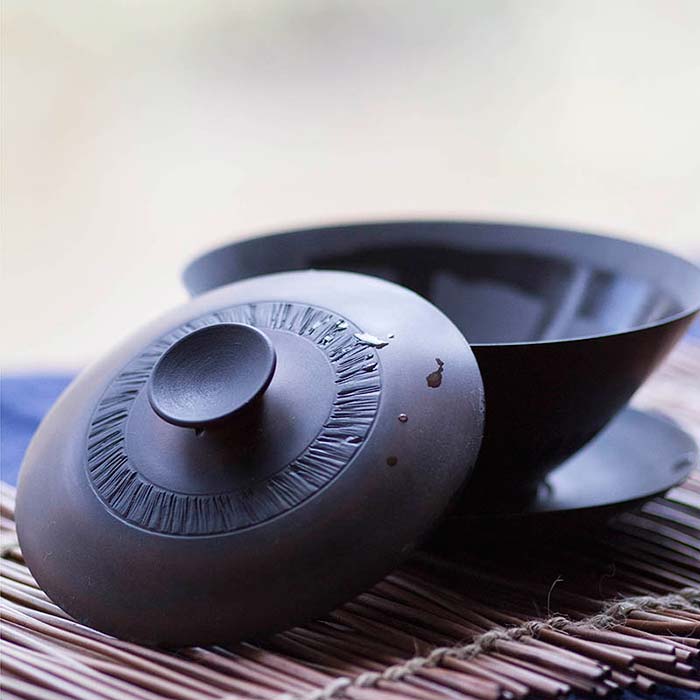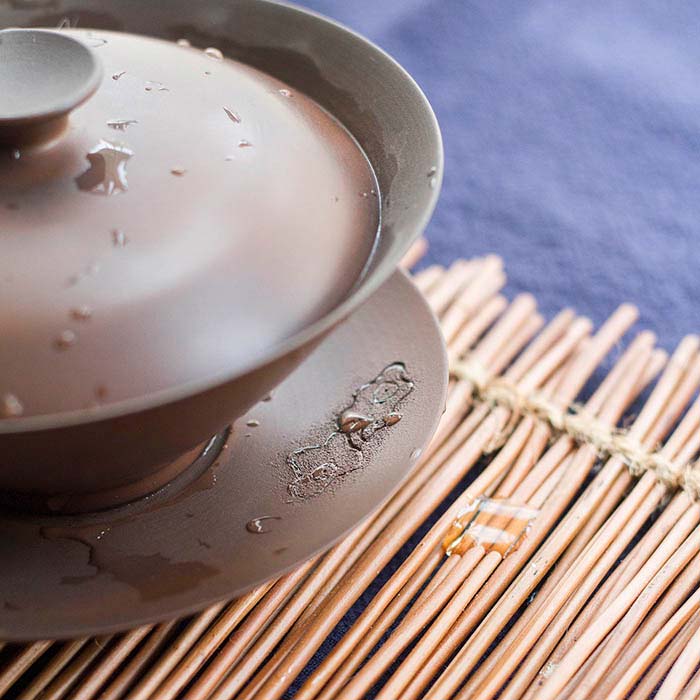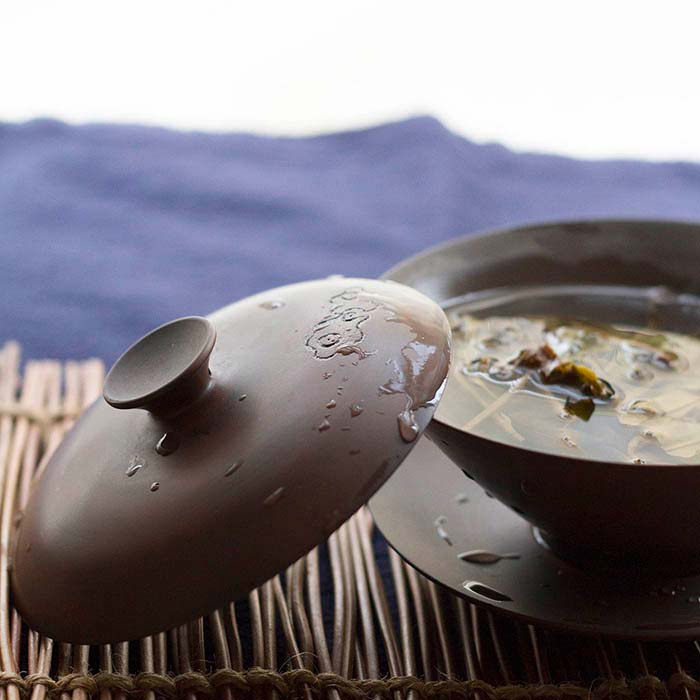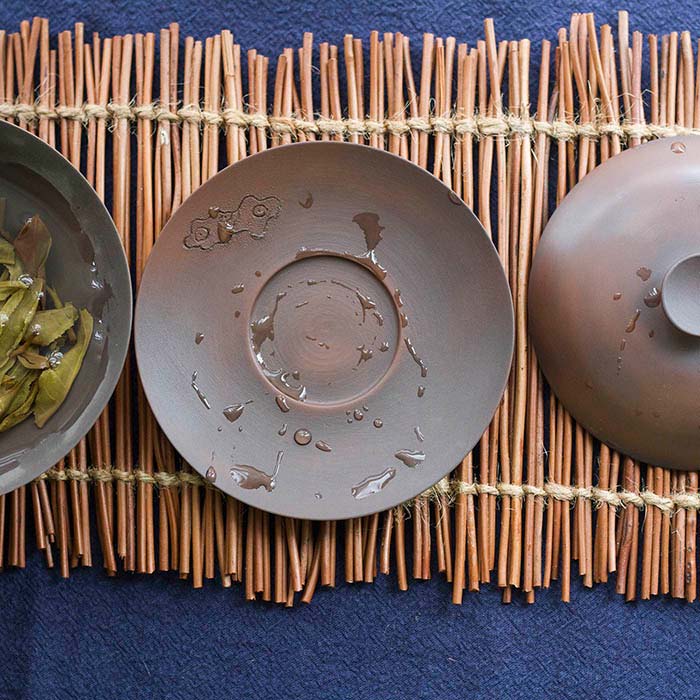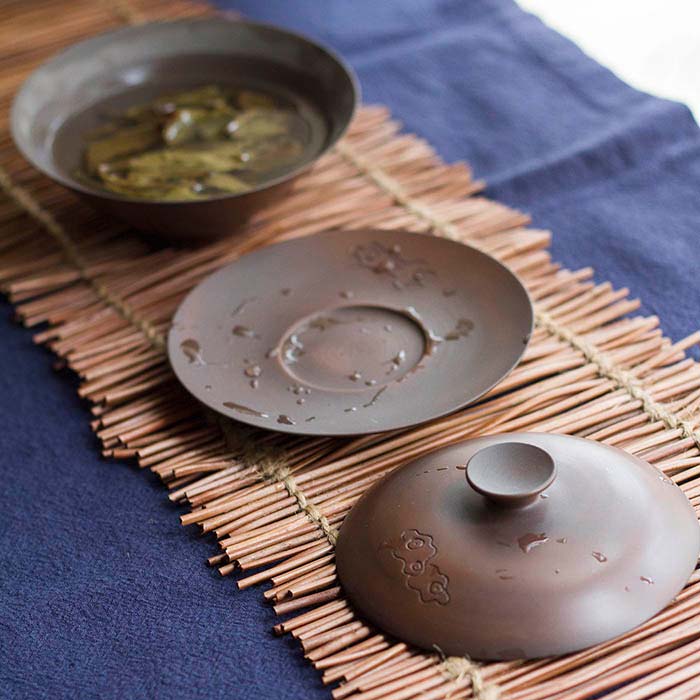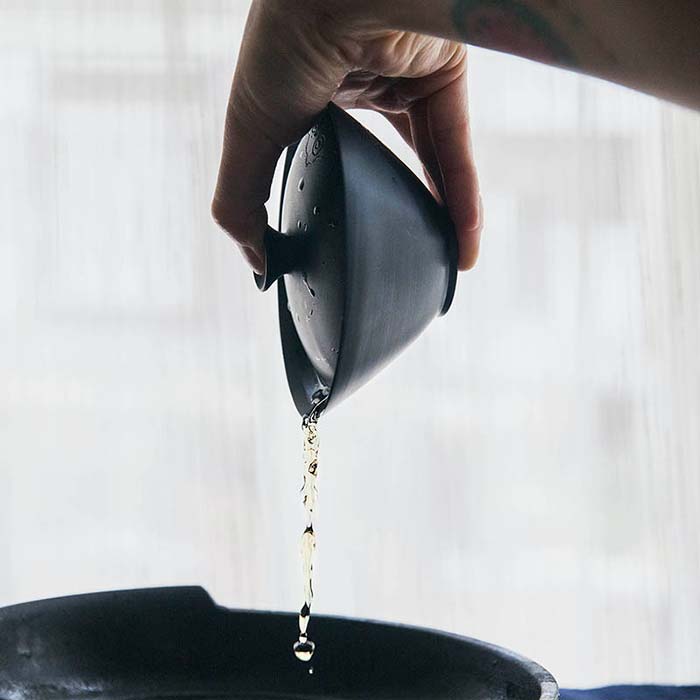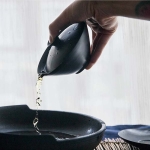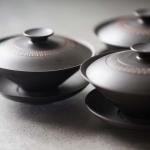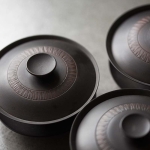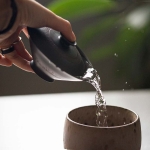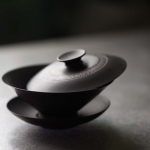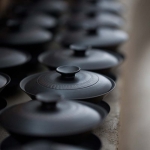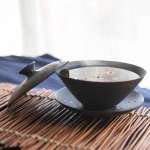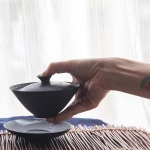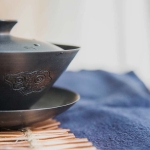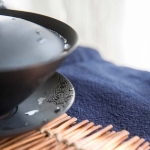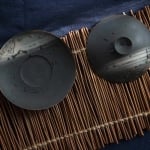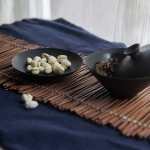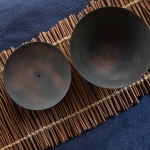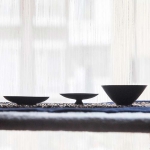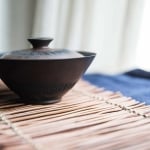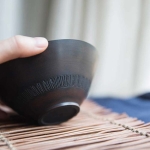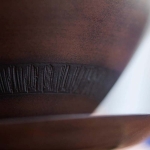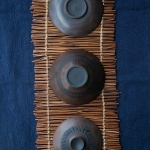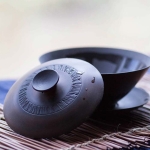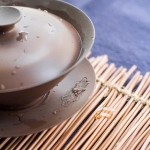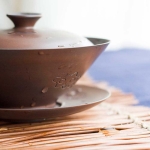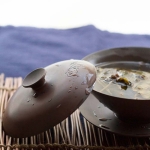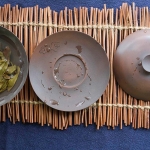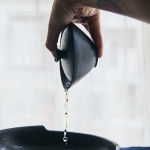 Warrior Jianshui Zitao Purple Clay Gaiwan
$79.00
Description
See How It Pours
Recommended Care
Additional information
Description
This unconventionally shaped gaiwan features a wide top that tapers down to a narrow base and is surprisingly easy to use with both small and large hands. It pours fast and smooth, with great control.
Each of these elegant gaiwans are handmade and one of a kind. There may be slight variations in the amount of reddish-brown showing through the rustic, charcoal finish. One style includes a small lotus seed engraving featured on the lid and coaster plate.
Another is hashmarks going around the circumference of the gaiwan, lid and coaster. Alternatively, the coaster plate can double up as a perfect small dish for tea snacks. Please note that our current batch is all dark in colour.
These gaiwans are made from 100% Zitao Purple Clay from Jianshui and hold approximately 125ml (+/- 5ml) of liquid. As this is made from unglazed clay, we recommend treating this similar to an unglazed teapot and designating it for a specific type of tea.
Please see the "recommended care" tab above for more information regarding our standards for selection and quality.
As with any new purple clay teaware, it's recommended to first "season" it with the type of tea you plan to use it for. For this gaiwan our basic recommendation is:
Check for clay deposits and scrape gently with a wooden or bamboo stick.
Place the pot in boiled water and allow to sit for 30-60 minutes.
Remove the gaiwan and allow it to dry
Using your previously boiled water, add some new or used tea leaves that you plan to use this gaiwan for, boil, add the gaiwan, then allow it to sit for another 30-60 mins.
Rinse with regular water and allow to dry
Your gaiwan is ready to be used!
After seasoning your gaiwan, it's advised to designate the gaiwan for one type of tea (raw puer, ripe puer, oolong, black tea, etc) as the gaiwan will slowly absorb the flavor and characteristics of the tea you use it for. If for some reason you use it with another type of tea, don't worry. Your gaiwan is not ruined or tainted. The process of raising it is cumulative and happens over a long period of time – one simple session of brewing tea won't make a noticeable difference. However, one thing you should definitely not do is use soap or anything other than water to wash or rinse your gaiwan. If it absorbs the properties of tea over time, it will also absorb anything else you put in it, especially anything perfumed or scented.
Please note that all of our zitao purple clay pieces are handmade, therefore there may be slight differences in appearance, shape and size from piece to piece or batch to batch. We make every effort to ensure consistency amongst all pieces, as well as only carry pieces that are free of major or noticeable defects.
While we always try to maintain a high level of craftsmanship for our teaware, handmade pieces like these may have a small nick or bubble in an inconspicuous area from time to time. We guarantee that each piece will look as spectacular in person as it does when we present it. However, if you wish to see a detailed example of what we consider a passable imperfection or would simply like to verify that our current stock is exactly as pictured, please contact us and we will be happy to share.
Additional information
| | |
| --- | --- |
| Weight | 205 g |
| Dimensions | 11.5 × 11.5 × 8 cm |